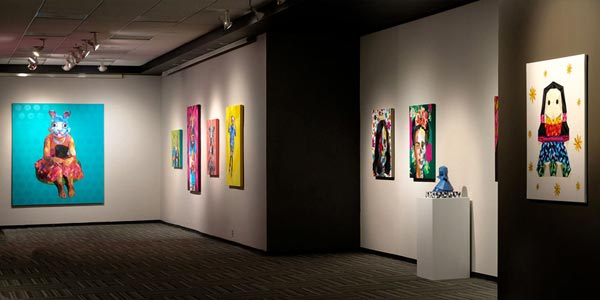 «Valores Invertidos» - Solo Show
MUBO - MEXICO CITY SEP 2018 / OCT 2018
Yunuene makes use of interactive tools in her individual exhibition Valores invertidos, presented at the new Museum of the Stock Exchange in Mexico City. Through an application for cell phones and tablets, Yunuene gives life to her paintings to move us to the world behind her work and thus creating two dialogues and two interpretations that can be opposite or integral.
The exhibition welcomes us with a large painting titled 'Spring afternoon in the city': at first sight it is a romantic and colorful public transport bus, but when activating the augmented reality component, the reality of a chaotic and polluted city are revealed. In her series 'Between two worlds', life and death coexist in four painting with characters such as Frida Kahlo and Sor Juana Inés de la Cruz; On the one hand we have the historical legacy of key women in the national culture and on the other a direct representation of death: a nod of the artist towards feminicides.
The exhibition is composed of 13 deconstructivist oil paintings and two bronze sculptures that show daily scenes of Mexican culture and contemporary social issues, complemented by animation and music it will show us that not everything is what it seems.
Open from Sunday to Friday 10:00-17:00hrs